---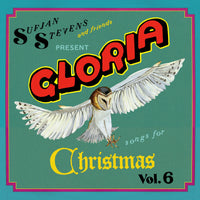 Sufjan Stevens - Silver & Gold, Vol. 6: Gloria
Note: This product includes the vinyl 12 inch of Vol. 6: Gloria only.  
Who can save us from the infidels of Christmas commodity? Look no further, tired shopper, for your hero arrives as the diligent songwriter Sufjan Stevens: army of one, banjo in one hand, drum machine in the other, holed up in his room, surrounded by hymnals, oratorios, music charts, sacred harp books, photo-copied Readers Digest Christmas catalogs—all the weaponry of Yuletide incantations—singing his barbaric yawp above the snow-capped rooftops.
His song is love; his song is hope; his song is peace. His song conjures the fruitcake world of his own imagination with steadfast pursuit of the inexplicable bliss of Christmas Promises—"Gloria in excelsis deo"—summoning the company of angels, the helper elves, the shepherds keeping flock, the innkeepers, the coupon-clippers, the marathon runners, the cross-country skiers, the bottom feeders, the grocery store baggers, the bridge and tunnel drivers, the construction workers, the ice cream makers, the toll booth workers, the street sweepers, the single mothers, the custodians, the rich and the poor, the walking dead, the community of saints, the Virgin Mary, the Holy Spirit, the Prince of Persia, and all the invisible hosts of heaven to participate in this absurd cosmic adventure, pursuing holly-jolly songs of hope and redemption with a sacred heart for the love of the holidays, for the forgiveness of sins, the resurrection of the dead, and the life of the world to come. Amen.